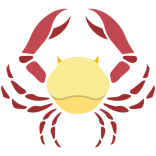 Astrological Profile for Those Born On July 7
Your Sun Sign is Cancer
Your personal ruling planets are Moon and Neptune.
You are passionate, proud, and highly sensitive, although this is not always immediately obvious. Seeking to balance your emotions is the major key to success in life, as is learning to let go and move forward. You are excellent at networking, but you are also moody - extroverted one day and introverted the next. You have family connections and support, and you can be quite a collector, as you are both sentimental and intrigued with history. You are good at big-picture thinking as well as tending to details.
Your lucky colors are the darker green shades.
Your lucky gems are turquoise, cats eye chrysoberyl, tigers eye.
Your lucky days of the week are Mondays and Thursdays.
Your lucky numbers and years of important change are 7 , 16, 25, 34, 43, 52, 61, 70, 79.
Famous people born on your birthday include G. Mahler, Pierre Cardin, Vince Edwards, Ringo Starr, Billy Campbell, Paula Devicq and Michelle Kwan.