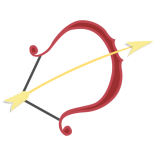 Astrological Profile for Those Born On December 10
Your Sun Sign is Sagittarius
Your personal ruling planets are Jupiter and Sun.
You are a person with strong convictions, but your morals are unusual or stretched. You are courageous, very sincere, and enjoy some level of risk-taking in your everyday life. You need to find a job that you love, for your work means so much to you. A solutions person, you love to solve problems--yours but especially others'. Still, you have some escapist tendencies. In others, you look for practical people with good, basic values and work ethic. You are very true to the ones you love.
Your lucky colors are copper and gold.
Your lucky gem is Ruby.
Your lucky days of the week are Sunday, Monday and Thursday.
Your lucky numbers and years of important change are 1, 10, 19, 28, 37,46,55,64,73 and 82.
Famous people born on your birthday include Emily Dickinson, Chet Huntley, Philip Hart, John J York, Nia Peeples and Caleb Ross.