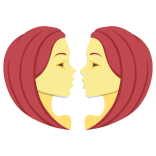 Astrological Profile for Those Born On June 5
Your Sun Sign is Gemini
Your personal ruling planet is Mercury.
You need to have many things going on at once in order to feel satisfied in life. You seek variety and try to avoid situations that are lifeless or dull. As such, you are better off in a job that is creative, and in fact, you are likely to be quite successful in such pursuits, as long as you learn to plan ahead and manage money well. You pick up a lot of information from your environment and easily feel restless as a result. You are a great storyteller and conversationalist, and others find you fun to be around.
Your lucky color is green.
Your lucky gems are Emerald, Aquamarine or Jade.
Your lucky days of the week Wednesdays, Fridays, Saturdays.
Your lucky numbers and years of important change are 5, 14, 23, 32, 41, 50, 59, 68, 77.
Famous people born on your birthday include William Boyd, Mark Wahlberg, Joey Swee, Chad Allen and Ken Follett.