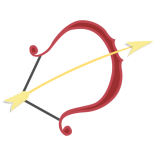 Astrological Profile for Those Born On December 1
Your Sun Sign is Sagittarius
Your personal ruling planets are Jupiter and Sun.
You are fiercely independent, but also very passionate, and thus relationships are important to you. Optimistic yet practical, you are success-oriented. You have a sixth sense that you rely upon quite heavily, as it allows you to see and understand more than the average person, and you trust your instincts. After all, they serve you well. Charismatic and attractive, you enter relationships rather easily, but often end up in a power struggle. This could be due to your own independent nature, and your attraction to equally as strong-minded people. You are more sensitive than you ever let on, largely due to your observant nature.
Your lucky colors are copper and gold.
Your lucky gem is Ruby.
Your lucky days of the week are Sunday, Monday and Thursday.
Your lucky numbers and years of important change are 1, 10, 19, 28, 37,46,55,64,73 and 82.
Famous people born on your birthday include Rex Stout, Cyril Ritchard, Mary Martin, Woody Allen, Lou Rawls, Bette Midler, Carol Alt and Jeremy Northam.