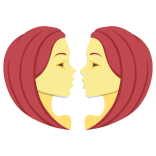 Astrological Profile for Those Born On May 24
Your Sun Sign is Gemini
Your personal ruling planets are Mercury and Venus.
You are capable of practically anything you set your mind to once you find your calling. You have a commanding manner, and you set clear boundaries. You have strong opinions and love exchanging ideas with others. When your heart is won, you are loving, considerate, and involved. You have a good head for business.
Your lucky colors are white and cream, rose and pink.
Your lucky gems are diamond, white sapphire or quartz crystal.
Your lucky days of the week Friday, Saturday, Wednesday.
Your lucky numbers and years of important change are 6, 15, 24, 33, 42, 51, 60, 69, 78.
Famous people born on your birthday include Queen Victoria, Jan Christian Smuts, Bob Dylan, Sybil Danning, Kristen Scott Thomas and Elissa Bridges.