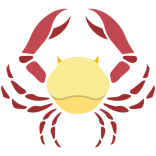 Sign of the zodiac: Cancer
Daily love horoscope for Sunday, December 10, 2023 will help you plan your day well. Read your today's horoscope and see what awaits for you. See, whether for your zodiac sign today's day is going to be successful. With our horoscope, you will be ready for every waiting surprises and possible troubles. Remember, that your horoscope for today may be a warning and also a blessing.
Horoscope on day:
Sunday, December 10, 2023
The current astral configuration hints that you could be overtaken by some powerful and passionate feelings on your date. There is real intensity in the air, which means that you will enjoy the whole encounter very much. Perhaps it is because you do not know this person very well that they appear so enigmatic and exciting. You will certainly want to see much more of each other.
Check the daily love horoscope for other signs:
Aries
Taurus
Gemini
Cancer
Leo
Virgo

Libra
Scorpio
Sagittarius
Capricorn
Aquarius
Pisces
Also check other horoscopes for the zodiac sign Cancer:
Daily
Daily love
Weekly
Weekly love

Monthly
Monthly tarot
Yearly
Zodiac profile