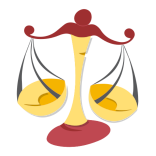 Sign of the zodiac: Libra
Daily love horoscope for Thursday, September 21, 2023 will help you plan your day well. Read your today's horoscope and see what awaits for you. See, whether for your zodiac sign today's day is going to be successful. With our horoscope, you will be ready for every waiting surprises and possible troubles. Remember, that your horoscope for today may be a warning and also a blessing.
Horoscope on day:
Thursday, September 21, 2023
Things may be somewhat deceptive today, due to the present celestial atmosphere. It's not that you intend to distrust a certain person when they disclose the way they are feeling, yet something just doesn't quite seem to ring true, although you may not be able to put your finger on why this is. It may be best, at least for now, to listen to your intuition.
Check the daily love horoscope for other signs:
Aries
Taurus
Gemini
Cancer
Leo
Virgo

Libra
Scorpio
Sagittarius
Capricorn
Aquarius
Pisces
Also check other horoscopes for the zodiac sign Libra:
Daily
Daily love
Weekly
Weekly love

Monthly
Monthly tarot
Yearly
Zodiac profile