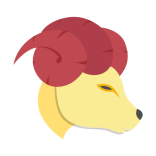 Sign of the zodiac: Aries
Monthly love horoscope will help you plan your month well. Read your month love horoscope and see what awaits for you. See, whether for your zodiac sign month is going to be successful. With our horoscope, you will be ready for every waiting surprises and possible troubles. Remember, that your horoscope for month may be a warning and also a blessing.
Your June Love Horoscope:
With libidinous Mars backtracking in your intimacy zone this month, you may be tempted to hook up with an ex, especially on the 19th when Mars has a run-in with impulsive Uranus in Aries. Mental Mercury clashes with Mars on the 9th and 26th, making those potential - What was I thinking? dates, and the risk is there on the 13th as well, when amorous Venus has her own conflict with Mars. The opportunity to reignite sparks can be a big plus if your sex life has become too by-the-book. Reintroduce something you haven't tried in years or play a different role than you're used to, such as letting your partner take control if you're usually the more assertive one in bed. Since Venus is in your communication sector until the 17th, flirting can be harmless and fun. So if you're single, enjoy dates and conversations with various people, and don't think too much about where they'll lead. And if you want to tell someone how you feel, it's bound to seem easier on June 6 and 12, when the sun and Uranus sync with Venus.
Check the monthly love horoscope for other signs:
Aries
Taurus
Gemini
Cancer
Leo
Virgo

Libra
Scorpio
Sagittarius
Capricorn
Aquarius
Pisces
Also check other horoscopes for the zodiac sign Aries:
Daily
Daily love
Weekly
Weekly love

Monthly
Monthly tarot
Yearly
Zodiac profile