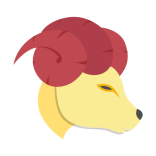 Sign of the zodiac: Aries
Monthly love horoscope will help you plan your month well. Read your month love horoscope and see what awaits for you. See, whether for your zodiac sign month is going to be successful. With our horoscope, you will be ready for every waiting surprises and possible troubles. Remember, that your horoscope for month may be a warning and also a blessing.
Your May Love Horoscope:
You might be in the mood to do some serious shopping, thanks to Venus's presence in your worth zone until May 24, but with Mercury traveling retrograde there during those weeks, you could end up with buyer's remorse. You're better off thinking about your self-image and what you base your own worth on. What do you like about your appearance? Are you playing up those assets with the way you dress? Which qualities do you value most in yourself? Do those come across in your interactions? Put your answers to good use later in the month when the sun and Venus segue into your mind-set-and-communication sector, encouraging you to see people, think positive thoughts, appreciate the beauty in your everyday life and express your love. You might be torn between pleasant banter and a heated debate on the 24th, and if you're on a date, a little of both wouldn't be a bad idea. Looking to meet someone? Your neighborhood, siblings and written communication are great starting places!
All signs of the zodiac:
Aries
Taurus
Gemini
Cancer
Leo
Virgo

Libra
Scorpio
Sagittarius
Capricorn
Aquarius
Pisces