Daily I Ching Horoscope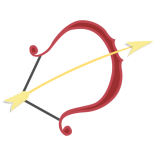 Sign of the zodiac: Sagittarius
Daily I Ching horoscope for Thursday, September 21, 2023 will help you plan your day well. Read your today's horoscope and see what awaits for you. See, whether for your zodiac sign today's day is going to be successful. With our horoscope, you will be ready for every waiting surprises and possible troubles. Remember, that your horoscope for today may be a warning and also a blessing.
Horoscope for day:
Thursday, September 21, 2023

Hexagram: 52, Name: Ken

Keyphrase: Keeping still

The Trigrams: Mountain over Mountain
Ken reminds you that if your mind is full of clutter it will not be able to hold new thoughts and ideas. Ken appears when you have a need to take a break and withdraw from the world for a moment in order to clear out the old in your mind to make way for the new. Meditation is the key to this process. It is not simply a time for rest. It is not an easy task to free your mind from daily worries, but it is necessary to do so, so that you can see and think more objectively than before. Old thoughts hinder your actions, compelling you to make the same mistakes. Clear them out - don't let them trap you.
How to interpret I Ching Horoscopes
This I Ching hexagram gives insight into the forces, people, events or spiritual states that will have significance for Sagittarius today. The relevance of this particular hexagram may reference a general trend for the entire day, or a news event or something specific which occurs at some point within a 24 hour period.
Check out the daily I Ching horoscope for other signs:
Aries
Taurus
Gemini
Cancer
Leo
Virgo

Libra
Scorpio
Sagittarius
Capricorn
Aquarius
Pisces