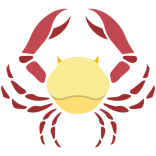 Sign of the zodiac: Cancer
Monthly love horoscope will help you plan your month well. Read your month love horoscope and see what awaits for you. See, whether for your zodiac sign month is going to be successful. With our horoscope, you will be ready for every waiting surprises and possible troubles. Remember, that your horoscope for month may be a warning and also a blessing.
Your December Love Horoscope:
This is likely to be an extra emo month for you, moon child. The full moon on the 3rd may bring up some old feels that you thought you were done feeling. Don't take your reactions at face value, and follow the three R's of Mercury retrograde: Review, reflect, and realign. From the 20th onward is a great time to connect with your fam, but it's not likely to be all light and easy. Relationships mirror your past actions and true self back to you. If you don't want to maintain broken dynamics, then address them. The way to make things truly different is by starting with your own willingness to participate.
All signs of the zodiac:
Aries
Taurus
Gemini
Cancer
Leo
Virgo

Libra
Scorpio
Sagittarius
Capricorn
Aquarius
Pisces