Zodiac Profile - Libra
In Western astrology, astrological signs are the twelve 30° sectors of the ecliptic, starting at the vernal equinox (one of the intersections of the ecliptic with the celestial equator), also known as the First Point of Aries. The order of the astrological signs is Aries, Taurus, Gemini, Cancer, Leo, Virgo, Libra, Scorpio, Sagittarius, Capricorn, Aquarius and Pisces. Each sector was named for a constellation it was passing through in times of naming.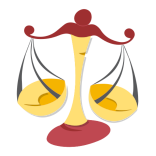 Libra
: September 23 to October 22
Affirmation
: "I Balance"
Position
: Seventh sign of the Zodiac - Marriage
Symbol
: The Scales
Positive Polarities
: Balance, Harmony, Justice
Negative Polarities
: Deceiving, Untruthful, Vacillation
Element
: Air
Modality
: Cardinal
Ruling Planet
: Venus
Triplicity
: Middle sign of the Air element
Animal
: Elephant
Astral Colors
: Black, Crimson, Light Blue
Gemstones
: Diamond, Opal
Metals
: Copper
Perfume
: Salbanum
Plants
: Aloe, Myrtle, Rose
People born under this sign are energetic, ambitious, generous, and inspired. The men and women are said to differ even more than Leo men and women, and probably from the same reason. Often Libra men have to seek their own way, find their own companions, and occupations. Early on they learn to turn their inspirations and clairvoyant abilities to financial account, and so become bankers, stock brokers, and sometimes even gamblers. The scales of Libra tip very easily, and too often one scale touches bottom with a dead weight, while the other swings aloft unused and empty. Libra men are very fascinating, and they can be as reckless in following out the gratification of their desires as they are in gambling games and speculations. This pursuit is not so much sensual as sensuous, and is more of an eagerness for new objects of attraction than an impulse of passion. When overtaken by disaster, these people recover quickly and go to work again with redoubled vigor. Their feet never touch the earth in their calculations and intrigues. They are full of hope and enthusiasm, and crash after crash produces no effect.
All signs of the zodiac:
Aries
Taurus
Gemini
Cancer
Leo
Virgo

Libra
Scorpio
Sagittarius
Capricorn
Aquarius
Pisces
Also check other horoscopes for the zodiac sign Libra:
Daily
Daily love
Weekly
Weekly love

Monthly
Monthly tarot
Yearly
Zodiac profile