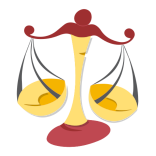 Sign of the zodiac: Libra
Monthly horoscope will help you plan your month well. Read your month horoscope and see what awaits for you. See, whether for your zodiac sign month is going to be successful. With our horoscope, you will be ready for every waiting surprises and possible troubles. Remember, that your horoscope for month may be a warning and also a blessing.
Your December Horoscope:
You're taking a serious look at money this month - as in how you make it, save it, spend it and blow it. As the end of the year creeps up on you, you're trying to get a handle on things - either out of personal necessity or due to a developing sense of responsibility. You've got 4 planets (including your ruler, Venus) moving through your financial sector and your money planet (Pluto) conjunct Mars in Capricorn. As these planets form favorable (sextile) aspects to one another, it's all about putting a plan into action and sticking to it. You're looking at your values in general - i.e., what's important to you beyond material concerns. You may be surprised at the things you learn about yourself this month. What you have to offer others (as in a assistance or charitable donations) are also considered. Starting around the 10th, your personal planets move into your communications sector. This would be a good time for taking a class, learning a new language or submitting your work for publication. You can also use this time to join up with others to develop group goals.
All signs of the zodiac:
Aries
Taurus
Gemini
Cancer
Leo
Virgo

Libra
Scorpio
Sagittarius
Capricorn
Aquarius
Pisces