Zodiac Profile - Aries
In Western astrology, astrological signs are the twelve 30° sectors of the ecliptic, starting at the vernal equinox (one of the intersections of the ecliptic with the celestial equator), also known as the First Point of Aries. The order of the astrological signs is Aries, Taurus, Gemini, Cancer, Leo, Virgo, Libra, Scorpio, Sagittarius, Capricorn, Aquarius and Pisces. Each sector was named for a constellation it was passing through in times of naming.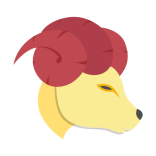 Aries
: March 21 to April 19
Affirmation
: "I Am"
Position
: First sign of the Zodiac - Self
Symbol
: The Ram
Positive Polarities
: Action, Courage, Enterprising
Negative Polarities
: Headstrong, Quarrelsome, Selfishness
Element
: Fire
Modality
: Cardinal
Ruling Planet
: Mars
Triplicity
: Head sign of the Fire element
Animals
: Lamb, Ram
Astral Colors
: Black, Red, White
Gemstones
: Diamond, Ruby
Metal
: Iron
Perfume
: Cinnamon
Plants
: Tiger Lily
Aries is called the sign of sacrifice. People born under Aries are usually very executive, earnest, and determined. They accomplish what they resolve to do against all opposition. They are leaders, and naturally dominate those about them. They are noble, generous, magnetic, progressive, and have occult power and metaphysical tastes. They are good scholars, are bright, genial, witty, and great talkers. They can always lead the conversation into new and interesting paths, and are never at a loss to provide entertainment. The genius of this sign is intuition, and silent electro-magnetic power by means of the hands. They reach their highest attainment through knowledge and the regenerative love-action of the heart. They love beauty, order, harmony, and elegant surroundings.
All signs of the zodiac:
Aries
Taurus
Gemini
Cancer
Leo
Virgo

Libra
Scorpio
Sagittarius
Capricorn
Aquarius
Pisces
Also check other horoscopes for the zodiac sign Aries:
Daily
Daily love
Weekly
Weekly love

Monthly
Monthly tarot
Yearly
Zodiac profile