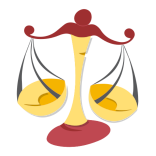 Libra
: September 23 to October 23
GENERAL
This year to come announces a very good period with regard to your social life, like your relations with others in the broad sense. You feel an increasing desire of freedom, at the same time as a need to create or reinforce certain alliances. You have capacities to combine these two facets from your natural diplomacy, but the need to impose yourself will be stronger than usually. You tend to harmony, this time by asserting your desires firmly.
WORK
You will have facilities to tie agreements and to find supports which will be essential to the continuation of your projects. The period is good to conclude an association, to begin a project, to diffuse a creation, to launch a commercial transaction. You matured your personal motivations and you are finally ready to announce it, without losing yourself in useless hesitations. It is in June that you will start to collect fruits of initiatives. Despite you will deal more often than usual with obstinate people, your talents of diplomacy will help you to find an area of agreement with the more difficult people... Your timidity leaves the place to more audacity, chance is with you! You should keep making efforts that you undertook last year to put all chances on your side, don't hesitate to recall old contacts, to launch you in an associative movement. Don't neglect especially legal details of your projects or activities, they would take a huge importance.
LOVE
Love will be in the foreground of your life throughout this year ... You will be more receptive to your partner, who will return it to you! Exchanges are clearly supported, particularly during the first quarter, you will gain there with being a little a less diplomat! An intense period is announced between April and June which comes to poke needs for tenderness, harmony, intimacy and contacts with others in the broad sense. Indeed, your affective and emotional feelings will enable you to discover who you are. Circumstances tend to develop your feelings, you more easily attract people who correspond to your true personality beyond appearances. Your rising affectivity encourages you to put you more at the tuning fork of your close relations. While seeking to locate you through others, you will feel an interior peace, which will enable you to feel fully existing. Thorny choices will have to be made before July, you will have to choose a clear direction if your situation didn't offer any visibility for the future. November and December will enable you to pose constructive bases with your relation, or if you are alone, to revise what you want and to become more selective to put all the chances on your side.
MONEY
The beginning of the year pushes you to resolutely go from before worms your financial objectives, in particular those in the short run, those which are carrying satisfactions or immediate returns. On the other hand, you will be tempted to make excessive expenditure in March, which can put on a dangerous balance your budget. Fortunately these tendencies fly away as of on April 11 and bring you back to considerations. In the middle of the year, you will be best inspired to take steps which aim at improving your standard of living, you will have to force things to release necessary time to plan your budget. A return to balance and financial good news starts on June 24, you will really be able to centre you on useful and even essential expenditure. Don't hesitate to take information on your rights at the legal level, of money re-entries will be done by this skew.
RELATIONSHIP
Details prodigiously annoy you this year, you to go straight right and you are likely to jump steps in the course of your projects. You will have to make efforts of concentration in spite of the agitation around you. Your entourage, not prepared with your current determination, must be softened in your connection, but it would be positive to make sorting between your true motivations and your tendency quarreller which don't always match... You can discover who the most sincere people are, it is the occasion to make the sorting for then better devoting yourself to positive alliances, don't hesitate, don't be in the doubt. Sometimes painful choices are essential, but which will enable you to start May under better conditions.
VITALITY
Your energy comes in major part from direct or indirect stimulations of your entourage. There is despite everything accesses of nervosity are to be envisaged because you won't know any more where to go. Keep being vigilant on your priorities, under penalty of dispersing your energy in all directions. Your activity intensifies and claims more energy as from February and this, until the end of April. Beautiful challenge in prospect! If you take up the challenge, you will cross this high month colors with the smile. If not, you are likely to take you for the saint Bernard, which is found exhausted to devote itself to its personal businesses... There is a happy medium to find day after day between these two tendencies. The accent is posed on the elimination of toxins, supervise your renal system.
Check the yearly horoscope for other signs:
Aries
Taurus
Gemini
Cancer
Leo
Virgo

Libra
Scorpio
Sagittarius
Capricorn
Aquarius
Pisces
Also check other horoscopes for the zodiac sign Libra:
Daily
Daily love
Weekly
Weekly love

Monthly
Monthly tarot
Yearly
Zodiac profile