Zodiac Profile - Sagittarius
In Western astrology, astrological signs are the twelve 30° sectors of the ecliptic, starting at the vernal equinox (one of the intersections of the ecliptic with the celestial equator), also known as the First Point of Aries. The order of the astrological signs is Aries, Taurus, Gemini, Cancer, Leo, Virgo, Libra, Scorpio, Sagittarius, Capricorn, Aquarius and Pisces. Each sector was named for a constellation it was passing through in times of naming.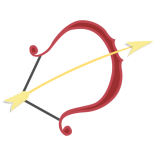 Sagittarius
: November 22 to December 21
Affirmation
: "I See"
Position
: Ninth sign of the Zodiac - Education
Symbol
: The Archer
Positive Polarities
: Charity, Honesty, Sincerity
Negative Polarities
: Bluntness, Injustice, Over-Confidence
Element
: Fire
Modality
: Mutable
Ruling Planet
: Jupiter
Triplicity
: Last sign of the Fire element
Animals
: Dog, Horse
Astral Colors
: Gold, Red, Green
Gemstones
: Carbunkle, Diamond, Lapis, Turquoise
Metals
: Tin
Perfume
: Lignaloes
Plants
: Fig, Hyssop, Oak, Rush
The People born under this sign usually aim well and hit the mark in all matters. Because of this characteristic they are prophetic, and can tell the outcome of almost any enterprise from its inception. They rarely make mistakes when they follow their own inspirations, but are sure to be led astray if they rely upon the advice of others. Sagittarius people are born busy, and keep busy under all circumstances. They are distinguished for minding their own business and keeping their own secrets. They do not trouble their neighbors' affairs, but are exceedingly active in their own. They always want to finish one thing before they begin another, and are as remarkable for their carefulness in detail as are the Aries people for carelessness or inability. These people are enterprising, progressive, and far-seeing, always courageous in an emergency, but frequently timid and afraid when there is no need for action or quick thought. An emergency is an inspiration. They are neat and orderly, and very careful in money matters, saving, but not penurious. It is seldom that you find a Sagittarius man or woman without money. Their talents are varied, and they can earn a dollar while others are deploring the need of one.
All signs of the zodiac:
Aries
Taurus
Gemini
Cancer
Leo
Virgo

Libra
Scorpio
Sagittarius
Capricorn
Aquarius
Pisces
Also check other horoscopes for the zodiac sign Sagittarius:
Daily
Daily love
Weekly
Weekly love

Monthly
Monthly tarot
Yearly
Zodiac profile