In Western astrology, astrological signs are the twelve 30° sectors of the ecliptic, starting at the vernal equinox (one of the intersections of the ecliptic with the celestial equator), also known as the First Point of Aries. The order of the astrological signs is Aries, Taurus, Gemini, Cancer, Leo, Virgo, Libra, Scorpio, Sagittarius, Capricorn, Aquarius and Pisces. Each sector was named for a constellation it was passing through in times of naming.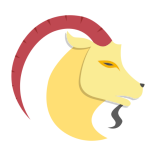 Capricorn
: December 22 to January 19
Affirmation
: "I Use"
Position
: Tenth sign of the Zodiac - Career
Symbol
: The Sea Goat
Positive Polarities
: Dignified, Disciplined, Organized
Negative Polarities
: Impatience, Limitation, Selfishness
Element
: Earth
Modality
: Cardinal
Ruling Planet
: Saturn
Triplicity
: Last sign of the Earth element
Animals
: The Goat, The Ass
Astral Colors
: Black, Brown, Garnet, Indigo, Silver-Grey
Gemstones
: Black Tourmaline, Obsidian, White Onyx, Moonstone, Tiger Eye
Metals
: Lead, Silver
Perfume
: Musk
Plants
: Yew, Ash, Hemp, Weeping Willow
This sign represents the dark side of the earth, the occult side of history, solitude, and meditation. People born under it are deep thinkers, natural orators, and teachers. They are worshippers of intellect, and devotees to book knowledge. They are insatiable in their desire for intellectual growth. They are indefatigable workers, and apt to tire quickly because they usually do several things at a time. Like the goat, they will work for themselves without stop or stint, but are very restless when harnessed to work for others. They are not overstocked with self-esteem, and are apt to be self-conscious. Capricorn people resent all interference, and never meddle with the affairs of others. They are fine entertainers, have excellent memories, and excel in story telling. This is the most brilliant and the most depressed sign in the Zodiac. When jolly, these Capricorns are very jolly; when miserable, they are more miserable than all the others put together, and can usually give no adequate reason for their wretchedness. They are kind-hearted, loyal, and secretive. A friend once is a friend always. They are usually careful in all money and business affairs, and a promise is sacredly regarded. They are natural planners, and know how to make both ends meet.
All signs of the zodiac:
Aries
Taurus
Gemini
Cancer
Leo
Virgo

Libra
Scorpio
Sagittarius
Capricorn
Aquarius
Pisces
Also check other horoscopes for the zodiac sign Capricorn:
Daily
Daily love
Weekly
Weekly love

Monthly
Monthly tarot
Yearly
Zodiac profile